Flexible maintenance programs tailored to your needs. We have innovative systems taking care of approvals for any vehicle maintenance and prompt payments with accurate reporting so you don't need to.
Vehicle Maintenance
Our maintenance programs can be as flexible as you would like them to be. Our operating leases have maintenance tailored to your lease terms and can include options such as tyres and vehicle repairs for more heavy use industries.
Similarly, we offer a stand-alone fleet management product for organisations who own their vehicles, providing all of the fleet management efficiencies of leasing without the finance component.
Our vehicles can be serviced at any MTA (Motor Trade Association) approved service centre Australia wide, which can be spotted by the blue MTA displayed sign; if you are not sure, just give us a call. Through our buying power, we are able to negotiate with these service centres to provide you with the National fleet discount, further decreasing the costs to you!
Our maintenance approval process is handled in house, with verbal authority needing to be obtained before any service work is undertaken on a StreetFleet vehicle. This ensures that you receive the maximum fleet/trade discount on their services and don't pay for unnecessary service department "up-sells" as all repair orders are scrutinised by our team.
Fuel Card Management
We offer fuel card services through Motorpass, which has the widest Acceptance in the country, with over 90% national coverage. Motorpass includes security and controls to limit both access to the card itself and locations to be used. With our very own branded StreetFleet fuel cards for your vehicles, you can access fuel discounts at all participating outlets. We provide you with accurate data reporting for fuel usage across your fleet.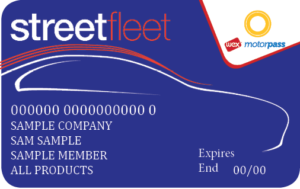 Toll Payments Australia wide
Similarly, we offer nationwide coverage for Toll management, so your fleet can stay mobile. We have a streamlined process for the management of E-tags to make sure your fleet is compliant with all tolls. Never have an unexpected toll again!